EDITING YOUR CLOSET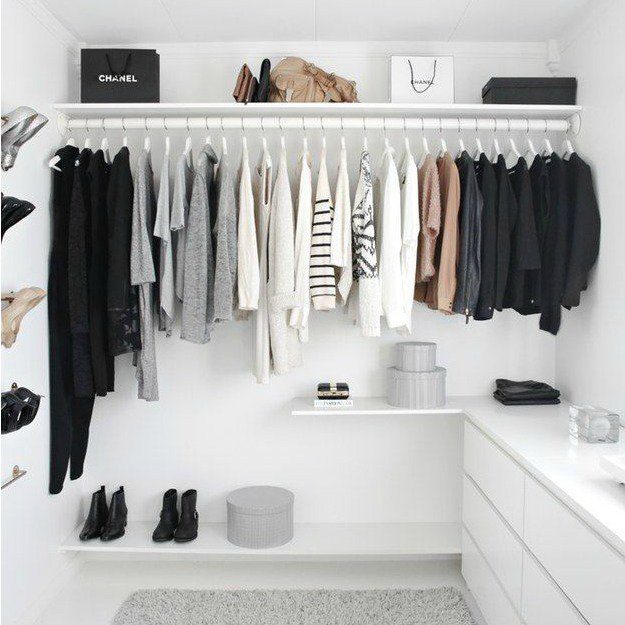 How many times have you stared blankly into the abyss of your closet wondering how you can have so many clothes, yet still have nothing to wear? We've all been there, but don't despair. What this usually means is that it's time for a wardrobe edit. If you're not sure how to do that, you are about to find out. A wardrobe edit basically means going through your closet to determine what's working for you and what isn't. It means taking stock of your clothing and simplifying things so that you have a wearable collection of pieces to choose from.
The problem is where to start? The first step is to let go of the past. Fashion has changed. It's become a form of self-expression rather than a list of ever changing trends that need to be followed. Now that you are open to a wider range of possibilities, it's time to re-evaluate your closet. There may be dozens of outfits hiding in there that you don't even know exist.
However, before we start to organize your closet, there are some pieces that really have to go first. I know this may be painful, but no matter how attached you are to these pieces, it's time to part company. They will only serve to make you look frumpy and out of date. Okay, are you ready?
Here are some items that you really need to retire:  
Holiday Sweaters.: Anything with reindeer, pumpkins or snowflakes.
Souvenir T-shirts
Jackets with Big Shoulder Pads (usually from the 80s and 90s)
High Waisted 'Mom Jeans' (Google it)
Velour Sweatsuits (Farewell Juicy Couture)
Unflattering Elasticized Pants
Clothing that no longer fit you
Clothing that is worn or stained
Clothing that does not flatter your figure or your coloring.
Okeydokey, now it's time to organize your closet. First, you need to separate your clothing by category (tops, blouses, sweaters, dresses, jackets, skirts, pants, etc.)  Next, try on each one of these pieces in front of a full-length mirror and get ready to be critical. Is it dated looking?  If so, toss it. Is it figure flattering? If so, keep it. How many different ways can you wear it? What does it go with? If you love it, but don't have anything to wear it with, start a list, because you are going to buy something to go with it.  The idea is to create a wardrobe of pieces that you love, that are flattering to your figure, and also can be worn a number of different ways. This is called creating a capsule wardrobe. It's better to have fewer pieces, but the right ones, which can be easily mixed and matched together.
It may be a good idea to ask a friend to come over to help you cull your clothing because we all need an unbiased opinion when it comes to editing our closet.  It's hard letting go of old faithful fashion friends, but the idea is to only keep the best pieces.
Once you have purged your closet of everything unflattering, out of style and worn out, put it in plastic bags and set it aside to donate to charity.  Next, take digital photos of the remaining outfits that you love.  Are there some key pieces that are missing from your wardrobe? Add them to your list. This shopping list is key to updating your look, and creating a capsule wardrobe that will make getting dressed a pleasure rather than an exercise in frustration. If you are unclear what basic elements make a good capsule wardrobe, I have some suggestions.
Wardrobe Staples:
Two Classic Black Dresses (one for winter and one for summer)
Pants in Black, Grey or Navy, and Camel
Wide Leg Black Pants
Black Straight Skirt (One to the knee and the other long)
Denim Jeans
Tailored Black Jacket
A Sheer Summer Cardigan
Classic Oversized Cashmere Cardigan
Cashmere Pullover Sweaters in Black, White and a Color
Tank Tops in Black, White and Gray
White Blouse
A Denim Jacket
A Trench Coat
Wide Leg Black Pants
Dressy Black Top
A Leather Jacket
A Pashmina or Cashmere Poncho
These investment pieces are basics that  you will have and wear for many years. Add in the outfits that you already own and love, and you now have a well-edited, stylish wardrobe.
~ Dorrie
Senior Style Bible
15 responses to "EDITING YOUR CLOSET"