About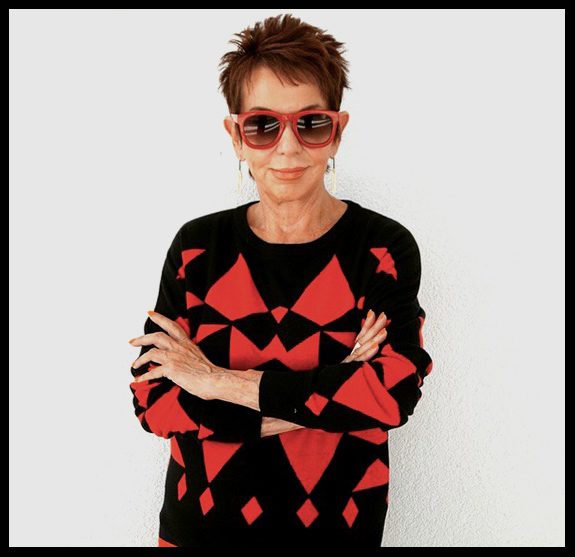 ABOUT SENIOR STYLE BIBLE
Senior Style Bible was created to celebrate the unmistakable allure of the mature woman and inspire a more modern approach to fashion.
Our goal is to inspire "women of a certain age" to embrace an ageless attitude and adopt a more youthful outlook on life.
Times have changed, mature fashionistas are now refusing to sink from sight in a sea of blue rinse and fluffy slippers. Recently, we have noticed a growing movement that is shifting to embrace older beauty.
Style mavens are taking the "old" out of "old-fashioned" and women over 50 are suddenly being chosen for major ad campaigns. In a youth oriented culture, the mature woman is finally being celebrated. This blog embraces that celebration.
Senior Style Bible's mission is to create a forum that explores fashion, beauty, health, wellness, travel and dating for women over 60.
ABOUT DORRIE
Senior Style Bible is written by Dorrie Jacobson, a retired Playboy Bunny, model, make-up artist and quasi-expert on aging stylishly. She was born in Philadelphia. After an unexpected ten-year detour through Las Vegas, she recently moved to Los Angeles to launch a lifestyle brand that celebrates and empowers older women.
She is currently single and is once again taking the plunge into online dating. She has a Burmese cat named Marky and a daughter Jodi, who also contributes to the fashion and style sections of the blog.
IN HER OWN WORDS
Today, at 80 years old, it is still a rare day when I am not stopped by a stranger complimenting me on my outfit, asking where they can buy something that I'm wearing, or inquiring into what brand of make-up I use. It is incredibly flattering to be noticed by complete strangers, male and female, of all ages. It reinforces my belief that style is much more than just what we wear, it's an attitude.
I've always been of the belief that as we get older, it's important to have a signature style that is modern, fashionable and most importantly, still turns heads. My heart still skips a beat when I spy something I adore. If fashion has the power to do that, I'm happy to grow old, as long as I can do it looking great.
At the urging of friends and strangers, I have launched this project so I can share my fashion and beauty secrets with mature women who want to look stylish and on trend. A lot of women are scared of aging, so I wanted to present images of women who continue to look and feel beautiful as they age. Beauty is ageless when worn with an air of confidence.